Sleep Disorder
Ring name(s)
Drew Parker
Sleep Disorder
"Sleep Disorder" Drew Parker
Poca-hauntus
Mort Duval
"Midnight Rider" Paul Severe
Billed height
5 ft. 7 in. (1.5m)
Billed weight
145 lbs. (65.7kg)
Born
October 31, 1990 (age 21)
Billed from
"Under the Stairs"

Gloucester City, New Jersey

Trained by
Chad Vanderquack
Debut
October 12, 2007
Drew Alexander Parker
(born
October 31
,
1990
), best known by his ring name
Sleep Disorder
, is a
professional wrestler
currently working for the
Professional Grappling Association
, where he is a former
Broadcast Champion
. He was trained at the
POWER Pro Wrestling Disassembly Line
and is known for wearing a full
Ghostface
costume from the
Scream
film franchise on his way to the ring. Parker is a
community college student
who recently lost his day job when a
Philadelphia
area
Quiznos
was closed.
In POWER Pro, Parker is a member of the wrestling stable The Colony alongside Thanksgrieving and Larry Little Feather, working under the name Poca-hauntus. Recently he has undergone a deconstruction of his character in PGA, unmasking and changing his entrance theme to distance himself from the POWER Pro gimmick. This deconstruction has allowed him to win the Broadcast Championship in a Scramble Match at Crowning a Champion's Waist 2011 over Panther Long , "Goodtime" Gary Bolan , "Mammoth" Kang JumBo , and defending champion Brandon O'Brien. He's also bangin' Penny Cavendish , so life's pretty good for Drew right now.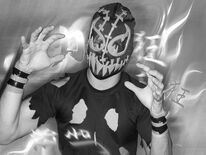 In wrestling
Edit
Community content is available under
CC-BY-SA
unless otherwise noted.