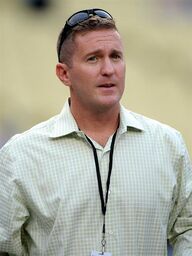 Bradley Alastair Ruby (born October 31, 1969) better known by his stage name
B. Armstrong Ruby
, is a professional wrestler, television personality, and both principle owner and chief executive officer of the
Professional Grappling Association
. He is the son of the former owner
Balk Ruby
and the older brother of
Pearl Ruby
.
Ruby inherited full ownership of the company when his father became ill in November of 2009. He is known in the wrestling business as a visionary, creating such concepts as the company-refacing Some Rad Ass Wrestling and the World Talent Initiative, although he is often critcized for valuing short-term creativity and profit over the fair treatment and well-being of his independently-contracted performers.
Ruby has been involved in the PGA since its creation when he was three years old, starting off as an adorable ticket taker and working nearly every job imaginable for a pro graps employee, including ring crew, concession, security, and eventually referee (under the pseudonym Alan Bradley). When the general public caught on that he was the son of the owner, he became an onscreen character, often falling victim to heels like The Panamanian Assassin when they wanted to make an issue with Balk Ruby personal.
When he could no longer take the abuse, the Brad Ruby character became hotshot freshfaced businessman B. Armstrong Ruby. B. Armstrong began to challenge the preconceptions of the wrestling industry, repackaging stale characters into dynamic, three-dimesonal human beings more often than not driven by a thirst for violence. He also experimented with the construct of the arena itself, creating new stipulations and adding trampolines to the outskirts of the ring. His outrageous behavior drew him into the ring more often than not, where Ruby became a two-time PGA World Heavyweight Wrestling Champion. In arguably his most famous moment, Ruby jumped from the top of the Associa-tron to hit his "Ruby Weapon" chair-assisted springboard senton onto "The Dog" Cat Gunsmith.
After Gunsmith and most of the PGA roster left to form the Unionized Simulated Fighting Association, Ruby began handpicking talent from the North American independent scene and around the world to rebuild the company with what he called the World Talent Initiative. The unprecedented venture was a financial and critical success, and the organization's current success is a direct result of Ruby taking a chance and promoting relative unknowns like "The Hybrid" Ben Crane, "The Aerial Anarchy" Rusty Cooledge, and Lester Balaam Jackson to televised, main-event status.
In 2009, Ruby drew fire from All Asia Pro Wrestling for a graphic stunt involving Brandon O'Brien being hung from the neck by barbed wire.
In wrestling
Edit
Community content is available under
CC-BY-SA
unless otherwise noted.